Flawless opaque white ink printing is no mystery. GTT anilox engravings print better – with less ink.
Download your Opaque White Ink Consumption Article...
Here's the proof: GTT anilox engravings helped one converter achieve top-quality opaque white printing... and slashed ink consumption & downtime.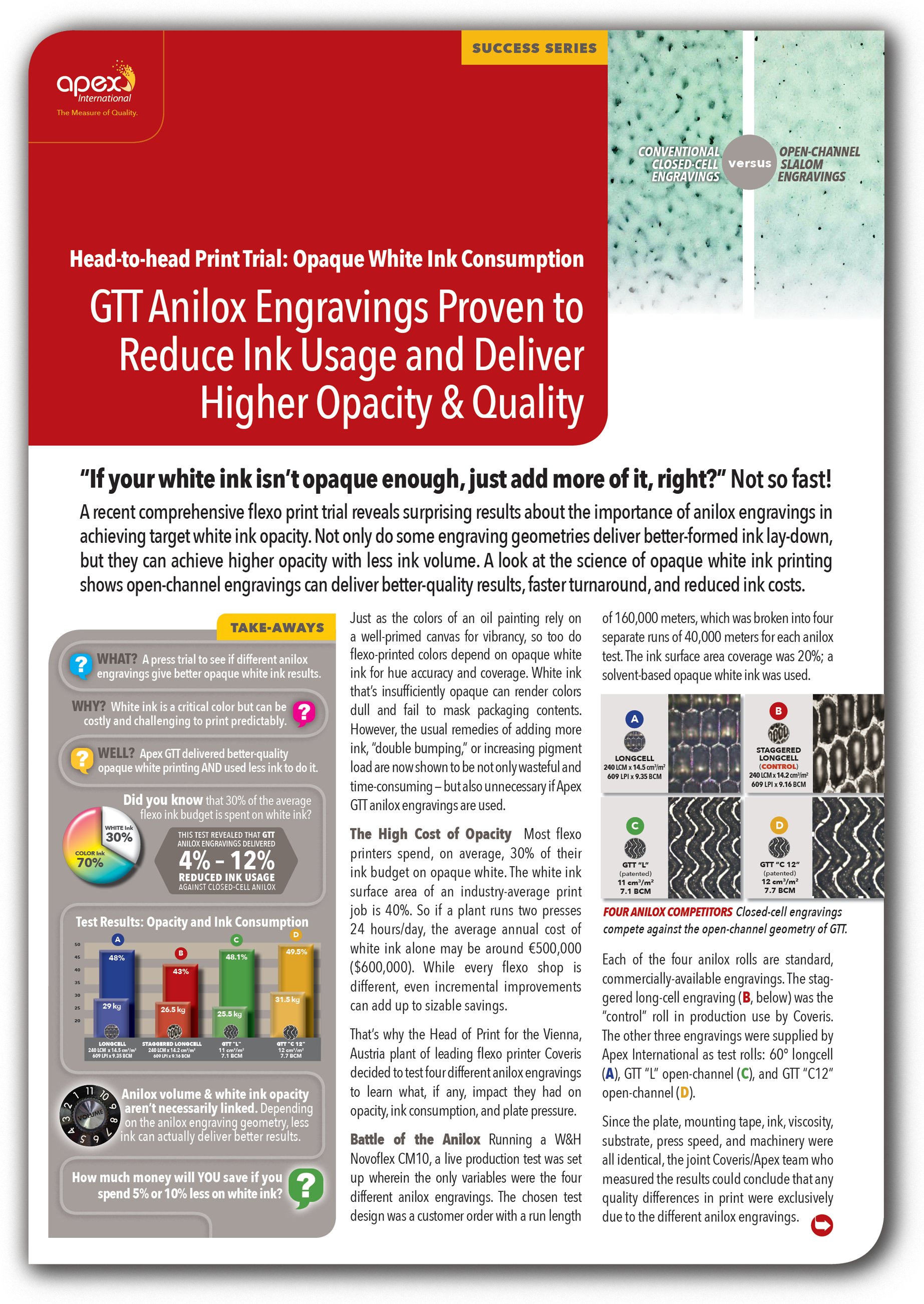 Mottling, pinholing, and uneven ink lay-down can slow down operations and lead to poor print results. But GTT engravings can make opaque ink printing a lot easier, faster – and more profitable.
Learn how one top flexo printer achieved better white ink opacity – and actually used less ink, less plate pressure, and required less clean-up time to achieve their best results ever.
Contact Us For More Details
Got 4 minutes? Uncover the science of opaque white printing...
Watch this entertaining animation to learn the physics of opaque white ink printing.
Sub-standard opacity — caused by mottling, pin-holing, or poor ink homogeneity — can badly alter your printed color palette results. Peek into the science behind GTT's revolutionary anilox geometry that reliably delivers the best opacity — and can even require less ink and faster clean-up. CLICK IMAGE TO WATCH VIDEO.
Find out more... download the GTT brochure.
Upgrade your anilox inventory for faster, predictable, and top-quality opaque white ink printing (plus all the other colors).
Award-winning GTT anilox engravings deliver the goods: richer solids, finer screens, cleaner reverses, and faster clean-up. If you're ready for the next level in wide web, label, and corrugated printing... download the brochure for a peek into the future of flexo.
For immediate assistance, please call +31 (0) 497 36 11 11